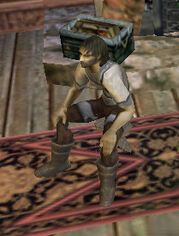 Berenthi Rukhil is a citizen of Elddim, in the Utraean Peninsula. He can be found sitting beside the fireplace in the Golden Mug Tavern, speaking to the Legion Recruiter.
Berenthi is considering joining the Legion, so that he can claim a blade from one of Lord Hovart's undead minions as a trophy.
With the return of the Maljin, Berenthi remarks that "only something terribly evil" could be powerful enough to "turn the sky red".
Ad blocker interference detected!
Wikia is a free-to-use site that makes money from advertising. We have a modified experience for viewers using ad blockers

Wikia is not accessible if you've made further modifications. Remove the custom ad blocker rule(s) and the page will load as expected.