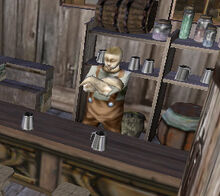 Kamb Dornick is a citizen of Crystwind, in the Utraean Peninsula. He is the barkeep of the local tavern, and can be found behind the bar inside.
Kamb states that there are only two types of Dwarves: those who drink in the morning, and those who drink in the evening.
With the return of the Maljin, Kamb notes that the "fire in the air" is leeching into everything, even his sealed kegs. He jokingly offers to serve up some of his tavern's new "red ale" to patrons.