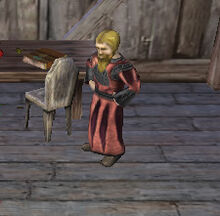 Utraean Priest Sarden is the local member of the Utraean Historical Society in Crystwind, in the Utraean Peninsula. He can be found standing inside the shop, Orkin's Herbs and Charms.
Sarden sends adventurers to collect the Crystwind townstone for the planned unification in Hiroth, which he believes will activate the Utraean Circle, and allow all people to use the H.U.B. system, instead of just a special few. Unfortunately, a sickness that swept through the village several years before left no one alive with the knowledge of who last had the Crystwind Hammer Stone, or where it might be now. He tells them that the best place to start would be asking around town.
When the Crystwind townstone is returned to him, he rewards the adventurers who found it with a pair of boiled leather boots, and tells them to visit Utraean Apprentice Flessan in Fallraen.
With the return of the Maljin, Sarden admits that the Society "tragically misjudged" the townstones, and he says he can't think of what to do with the air "so full of ash and brimstone".